With Kadence Conversions and Gutenberg blocks, you can construct lightweight, converting pop-ups, banners and slide-ins. The plugin aids in the generation of leads and the navigation of visitors to key information on your WordPress site.
WordPress users have been flocking to the Kadence Theme, and for good reason. The Kadence performance and accessibility enhancements make websites faster, more pleasant to browse, and rank higher in search engine results.
Using the WordPress Gutenberg editor, site owners can create fast, lean websites with Kadence without writing a line of code.
In this tutorial we will install Kadence Theme, Kadence blocks and finally install Kadence Conversions to create amazing Popups.
What is the purpose of Kadence Conversions?
Kadence Conversions is not just a popup builder. Kadence Conversions provides site owners with unique tools to craft customized engagement experiences for their visitors, all without writing a single line of code. Kadence Conversions is the only solution that uses the WordPress block editor to create these types of attention-grabbing popups and banners without any coding.
Popups, slider-ins, and banners may all be customized to meet buyers wherever they are in the buyer's journey. The Kadence team has also prepared some extensive assistance documents to ensure that site owners make good judgments about their offers in a tailored way that adds to the user experience rather than serving as a distraction from the content that site visitors are looking for.
Kadence Conversions provides two options for measuring popup, slide-in, and banner effectiveness: utilizing Kadence Conversions' internal analytics or using Google Analytics.
Features of Kadence Conversion
Kadence Conversion has many magnificent features, some of them are listed below:
Create Lightweight Popups, Sale Banners, and Slide-Ins
Loading is lightning fast.
Automatic Triggers
Build Anything
Track Performance
Drop in Ready Designs
Display Conditions
Create Lightweight Popups, Sale Banners, and Slide-Ins
The native WordPress editor was used to create Kadence Conversions. Connect with your customers with a variety of options and improved outcomes.
Loading is lightning fast.
Kadence Conversions keeps your site's resources and performance in check by optimizing it to load quickly.
Automatic Triggers
Optimally time your offer to reach customers at the right time in the buyer's journey, improving conversion metrics and boosting revenue.
Build Anything
Create dynamic offers that captivate prospects and convert them to customers by combining any block from any plugin.
Track Performance
The built-in conversion analytics assist you in optimizing your offers with fast access to metrics.
Drop in Ready Designs
Save time and effort by choosing from a growing library of prebuilt conversion types.
Display Conditions
Make your offers more personalized by targeting specific pages and customer behaviors.
Kadence Conversions has a lot of options and controls.
Kadence Conversions provides a number of options for personalizing offers and announcements for site visitors. With all of these options, you may construct bespoke popups, slide-ins, and banners for any purpose. When you select the list view at the top of the page, the right sidebar will display all of the various settings. These are some of the options:
Launch Triggers: When and where do you want your conversion offer to be displayed
Size Settings: Select the conversion element's size.
Repeat Control: Create your own borders and styles.
Conversion Settings: You can use a popup, a slide-in, or a banner.
Repeat Control: Cookies are used to avoid conversions from showing after a user has closed the program.
Position Settings: Select the location where you want your conversion to display.
Target Visitors: Show just to logged in or logged out users, or by user kinds, with the option to omit certain user categories.
Target Devices: Select which devices view your conversion element, such as only displaying it on desktop.
Scheduling: You can schedule the presentation of your conversion if you only want it to run for a specified duration, such as during a sale.
Overlay Settings: Choose from a variety of backdrop colors and opacities, as well as a background image.
Target Pages: Choose which pages you want your conversion element to appear on, and which pages you don't want it to appear on.
Animation Settings: To draw attention, use movement and fade-ins.
Advanced: If desired, add your own CSS for customizations.
Close Settings: Customize the way your conversion's near element is shown.
Advantages
Simple to use
It is effective. Kadence Blocks and Kadence Theme
An encouraging beginning for a new WordPress plugin
Target the appropriate user at the right moment has a long list of features.
The plugin is designed to load quickly and will not slow down your website.
The built-in analytics dashboard allows you to keep track of popup performance.
Disadvantages
If not purchased in the Kadence Conversion, it is quite costly. Bundle Includes Everything
Still in its early stages
Create Engaging Popup using Kadence Conversions
We will now install Kadence Theme, Kadence blocks and finally install Kadence Conversions and then create an amazing Popup using Kadence Conversions.
Prerequisites
Make sure you have Kadence Conversions plugin downloaded from the Kadence site.
Upload the plugin zip file
Dashboard -> Plugin -> Add new -> Upload file
Step 1: Install Kadence Theme
Go to your WordPress site's Dashboard
Select "Appearance" -> "Theme" -> "Add new" from the left hand-side menu
Search for "Kadence theme"
Install and activate
Step4: Install Kadence blocks
Go to your Site's Dashboard
Select "Plugins" -> "Add new", from the left hand-side menu
Search for "Kadence blocks" by Kadence WP
Install and activate
Step 3: Install Kadence Starter
Go to your Site's Dashboard
Select "Plugins" -> "Add new", from the left hand-side menu
Search for "Starter Templates" by Kadence WP
Install and activate
Step 4: Install Starter Template on our site
First of all we need to select a template for our site, and Kadence come with bunch of great templates.
Select "Appearance" -> "Starter Template", from the left hand-side menu
Find the template you like
Customize the site colors and text according to your choice
Click on either "Full site" or "Full page"
Once you import any template, your site will completely look like the template you have just imported. Once everything is ready we will now move to Kadence Conversion.
Kadence Conversions is different from the modal pop-up capability that we have in Kadence Block Pro. Well the difference is that this is actually built specifically for conversions.
Step 5: Create a beautiful popup using Kadence Conversion
Go to your site's Dashboard
Select "Conversions" -> "Dashboard", from the left hand side menu
We are using this dashboard to measure how well our pop-ups perform on our site. It shows how many views we get (blue line) and how many people are converted (green line).
Essentially, this gives us an idea of how many people actually took the action that you are asking them to take on the pop-up you have created.
As we saw in the previous section, local analytics is enabled over here, but you can also integrate Kadence Conversions with Google Analytics (you must have Google Analytics).
We will now create a Popup (Conversion item)
Go to your site's Dashboard
Select "Conversions" -> "All conversion items", from left hand-side menu
Click "Add new"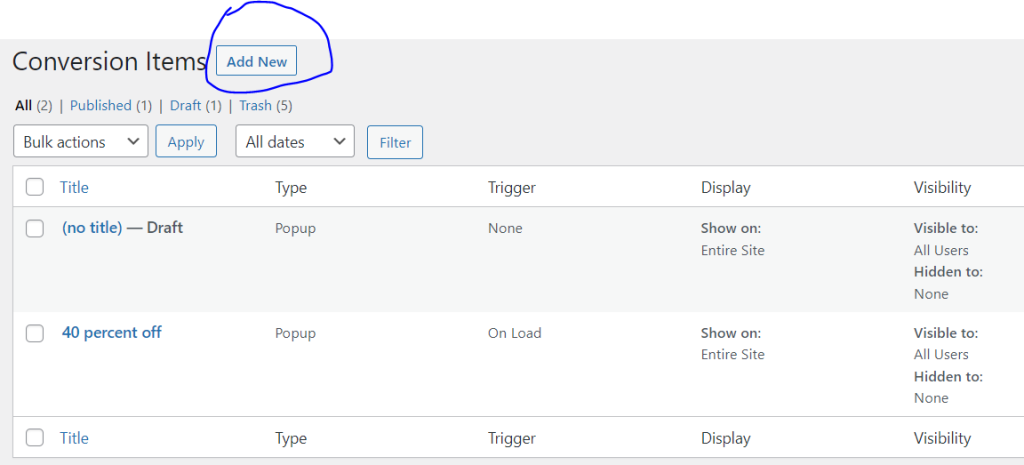 Choose your Conversion Type
(i) Pop-up (ii) Slide-in (iii) Banner
Pop-up: Overlays a site
Slide-in: Comes in from a corner of the site
Banner: Comes in from bottom or top
Whichever choice you make, they have already created some templates that you can use as a starting point. Use them as a starting point. A blank template is also available.
Enter your Title name
Select "link tree" or "link view" from the top left corner and click on "conversion item"
Click on "Block" from settings in upper right corner
These tabs have all the multiple options. Go through one by one customizing your template as much as you want.
This is an example of how your pop-ups will look like
Once you have fully customized your template, Click on publish from the upper right corner.
Why is Website Performance Important for Conversion Goals?
Speed and performance of your site are just as important as the quality of your product, whether your goal is to rank higher in search engine result pages through search engine optimization or to convert more site visitors into customers.
All offers can be accepted by you. Your sales methods are completely up to you. It is your choice which affiliates you use. Your conversion rate, or the amount of site browsers who take action on your offers, will suffer if your website is not optimized for speed.
There are no restrictions on the number of conversions you can have on your site, but you should choose wisely. Overwhelming your site visitors with popups, slide-ins, and banners that distract from the content might damage your brand in the long run. Rather, concentrate on generating valuable conversions for your users.
Additional Features of Kadence Conversions
With Kadence, you have the benefit of a no-code approach to building high-converting websites, which means your sites will convert better.
Analytics in the Plugin or Google Analytics Connected
Kadence Conversions has the advantage of providing analytics directly in the plugin dashboard, but it also provides the option of connecting to Google Analytics.
Starter Templates to Get You Started
Kadence Conversions features a variety of starter templates that provide inspiration for site owners to create, all inside the same interface they've been accustomed to with the WordPress block editor.
How to Connect with Visitors Without Annoying Them?
Site visitors' most common reactions to popups, modals, and overlays are frustration, impatience, and displeasure.
We can make helpful popups that assist our clients obtain what they want without bothering them by keeping in mind that website users often have unpleasant experiences with popups, modals, overlays, slide-ins, and other attention-seeking design elements.
Conclusion
As a new WordPress plugin, Kadence Conversion is off to a good start. Implementing intriguing widgets will undoubtedly aid in capturing the attention of your website visitors. With the help of Gutenberg Blocks, it's simple to implement. Because it is published by the same company as Kadence Theme and Kadence Block, it functions best when used together.
With Gutenberg blocks and Kadence Conversions, you can plan lightweight, changing over pop-ups, deals pennants, and slide-ins. The module helps with the age of leads and guides clients to key data on your WordPress site.