Landing pages are standalone web pages with a single purpose. Providing a landing page lets you offer a special deal, piece of information, or offer in exchange for contact information.
Using dynamic landing pages, you can do more than just publish content quickly and easily. Landing pages enable A/B testing, multilingual pages, and templated pages specific to a variety of predefined templates.
A landing page is designed with a single focus or goal, known as a call to action (or CTA, for short). Web pages typically have many goals and encourage exploration.
Difference Between a Homepage and a Landing Page
There are dozens of potential distractions on the homepage, but the landing page is very focused. Fewer links on your landing page increase conversions, as there are fewer tantalizing clickables that could take visitors away from your call to action. That's why expert marketers always direct their traffic to a dedicated landing page.
Yes, the homepage is beautiful. Shows off the company's brand, allows people to explore a range of products, and provides information about the company. Visitors can use this page to do anything – apply for a job, read press releases, review the terms of service, or post on the community boards.
However, they won't necessarily make a purchase. I take that as a positive.
A completely different purpose is served by the landing page for this customer. When paired with super slick ads that promote a single offer, this site works hard to turn visitors into customers. It does a better job at converting the traffic the brand already receives. Those are the benefits of landing pages!
Types of landing pages
Lead Generation Landing Pages:
In addition to having a form, these pages are also referred to as "lead generation" and "lead capture" pages. Almost always, this form collects lead data, like the names and email addresses of visitors.
B2B marketers and organizations selling high-ticket things utilize this sort of landing page to construct a rundown of prospective clients. They sometimes offering something free, similar to a digital book or online class, in return for contact information. Internet business brands can likewise involve these pages for list-building, or offering free delivery or unique arrangements, as well.
Clickthrough Landing Pages:
As often as possible utilized by internet business (e-commerce) and SaaS (Software-as-a-service) marketers, clickthrough pages go straight for deals or membership. Generally, they have a basic button as call for action that sends the visitor into the checkout flow (like the application store) or finishes an transaction.
Tutorial
Log in to your Mautic account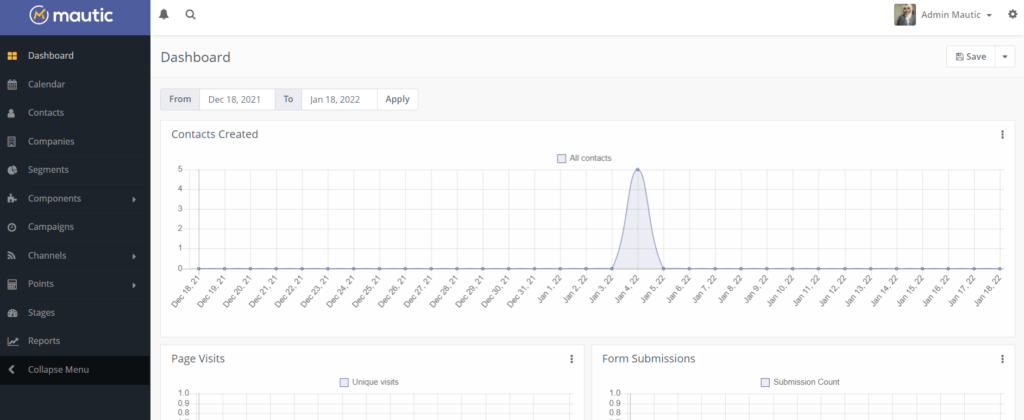 Click on components -> landing page
Click on "New"
Select your landing page theme. (This will be designed based on client feedback and approved)
Give a name to your landing page and add necessary details (Title, Alias, Category, Language and is a translation of, Publish Option, Preference Centre, Redirect Type, Disable Search Indexing, Meta Description)
Click on "Builder" to customize the template as required
Left side of the screen is your landing page, and from the right side, you can add all the different elements and make a customize landing page.
Make necessary changes and click on "Apply" and "Close Builder"
Click on "Save and Close"
You will be brought to a page that gives detail of all your landing statistics.
Conclusion
Landing pages are independent website pages with a solitary reason. Giving a landing page allows you to offer an extraordinary arrangement, snippets of information for leads, or deal in return for contact data.
Utilizing dynamic Landing pages, you can accomplish something beyond distribute content rapidly and without any problem. Landing pages empower A/B testing, multilingual pages, and templated pages explicit to an assortment of predefined formats.