WordPress has evolved from a content publishing platform to a fully-fledged eCommerce platform. With WordPress you can literally do anything using plugins. Back in the days I used bbPress to create online communities using WordPress which was really fun and if you are also looking to create a membership site then choosing right WordPress plugin for Membership site is really important.
There are various reasons for creating a membership site. Perhaps you would like to create a community around a certain topic where like-minded people can come and discuss or maybe you would like to create a subscription-based membership site for exclusive content.
How can it help your business to create a membership site:
You can give access to your exclusive content to your following which is not available in public
You can build email lists and emails lists prove to great marketing asset
Free membership based site for link minded people
Or you can sell membership for your content
In this article we will list some of the best WordPress Plugin for Membership based sites.
1. bbPress
bbPress would be my first choice for simple community based membership site. Because it is opensource and created by community.
Create and manage easy-to-manage forums and discussion boards with bbPress. Users can only access these forums if they are logged in to their member accounts.
BbPress is a forum software created by the same team that created WordPress. It can, however, do much more when incorporated into a membership site. Your members can be automatically added as forum users and given access to their own plan-specific forum.
Users can also be redirected to a custom URL after logging in using bbPress. Additionally, you have complete control over topic creation and comment moderation.
It is possible to allow or disable anonymous responses, as well as create different permission levels such as spectators, participants, and moderators.
Features
Developed by the same team who created WordPress
Multisite support
Fast and light weight
Allow you to customize templates
You can even extend its functionality if you are a plugin developer
Spam protection with Akismet support
Pricing
bbPress is free and its currently being used on 200,000+ sites with average rating of 4 on WordPress plugin directory.
2. WooCommerce Memberships
WordPress is a content publishing platform and usually your content published on WordPress is public unless you make it private. But you can use WooCommerce Memberships plugins to sell your content, you can either charge them one-time or sell subscription and charge for your content.
This plugin is really great if you want to monetize your content, however, for accepting payments you need WordPress Subscription plugin as well.
By using WooCommerce Memberships, you can create a purchasing club for your eCommerce store, in which members must sign up for the club in order to make a purchase. You can also make them sign up in order to access exclusive items!
With your membership site growing, you will be able to email your members about loyalty discounts and holiday sales using the email addresses you've collected.
You can also gift a membership along with a product purchase through the WooCommerce membership plugin.
Features
Sell or Assign Memberships: WooCommerce memberships are not a specific type of product; instead, membership plans are created separately from products. You can then choose how access is granted for maximum flexibility.
Strategically Grant Content Access: Memberships lets you schedule when members should have access to your members-only content. Drip content means that you can schedule when members should be able to access your content.
Turn Your Store into a Purchasing Club: Your site can become a purchasing club by creating members-only products, or you can offer certain products only to members. Your shop can be set up to restrict product viewing to members, which means that non-members can't see these products.
Offer Better Shipping Options to Members: Customers who are members should be your most loyal customers, so giving them perks that encourage them to purchase repeatedly from you keeps them coming back. Using memberships, you can offer free shipping directly to your members while requiring non-members to meet other criteria.
Reward Members with Special Discounts: Rewards your members with discounts, this can encourage more people to become members.
Automatically Show Members Their Perks: Give them access to special membership area where members can see their perks.
Memberships + Subscriptions: WooCommerce Subscriptions, the most advanced recurring payments solution available for eCommerce, integrates well with Memberships.
Pricing
WooCommerce Memberships is billed at $199/year (30 days money back) with average rating of 4.5, you can purchase it here.
3. Restrict Content Pro
This one is kind of similar to the one above. But if you don't want to launch a full-fledged membership based content selling site then you can use Restrict Content Pro. These guys also built Easy Digital Downloads.
There are also plenty of features in this plugin for controlling content access, and developers are always adding new ones.
Several payment integrations are available with Restricted Content Pro, including Stripe, Braintree, 2Checkout, Authorize.net, PayPal, and PayPal Standard and Express. Additionally, the plugin is capable of handling more than one payment option simultaneously.
Features
Powerful Content Restriction: With our powerful content restriction settings, you can restrict content by membership level, access level, WordPress user role, and much more.
Unlimited Membership Levels: Create and sell as many membership plans.
Easy Content Paywalls: Show a preview of content along with a customizable message to encourage users to sign up for a membership.
Member Access Controls: Manage access to specific pages, posts, archives, and even WordPress blocks, based on a member's plan, status, and more.
Easy Member Management: Easily manage members from WordPress dashboard, see which one of your members are active or inactive.
Built-in Member Account Dashboard: Member dashboard for end-user to manage and view their membership details.
and much more, you can see list of all the features here.
Pricing
Personal: $99/year
Plus: $149/year
Professional: $249/year
Since Restrict Content Pro is paid plugin it have an average rating of 4.4 on Capterra with 61 reviews.
PS: It also have a free plan, you can purchase it here.
4. S2Member
S2Member is a great plugin to sell your individual posts/pages. Selling "Buy Now" access can be done in a variety of ways. Even downloadable files and streaming audio/video can be protected. Locally store files, or use Amazon's integration with s2Member
s2Member integrates with PayPal Standard, Stripe ,PayPal Pro , Authorize.Net , and ClickBank for payments.
Features
Content Restriction: Protect the content of WordPress Pages, Posts, a specific Post Type, all Posts of a specific Post Type, Tags, Categories, URIs, URI word fragments, URI Replacement Code for BuddyPress, and Custom Capabilities, as well as portions of content inside Posts, Pages, themes, and plugins.
Paypal standard Button and Paypal Pro integration with Pro-forms
Stripe integration with Pro-forms
WordPress roles/capabilities support
Open registration option – S2Member can disable normal WordPress registration to make sure only paying users gets an account
and much more, you can see list of all the features here.
Pricing
Framework – Free
Pro Version – Single Site License – $89 one time fee
Pro Version Unlimited-Site Pro License – $189 one time fee
S2Memer is currently active on 20,000+ sites according to WordPress plugin directory with average rating of 4 (202 reviews so far), you can purchase the pro version here.
5. MemberMouse
MemberMouse is another WordPress plugin that lets you create a membership site and gives you various options to charge people for your content or even physical products too.
You can create membership levels and bundles to allow existing members to purchase one-time items.
To maximize your results, you can also create trial offers and coupons, as well as integrate MemberMouse with the best payment gateways and email marketing providers.
Features
Sell Memberships: MemberMouse can help you sell memberships and products at the same time
Protect Content: Protect your content and make it accessible to certain members or sell them
Manage Members: Manage your members inside WordPress with basic CRM functionality built in
Automation: Engage your members, provide support, and market to them with tools and integrations.
You can see list of more features here.
Pricing
MemberMouse offers 14 days trial with following paid plans:
Builder: $29/month
Advanced: $79/month
Premium: $199/month
You can purchase MemberMouse here.
Since MemberMouse is paid plugin it have an average rating of 4.7 on Capterra with 40 reviews.
6. Paid Memberships Pro
With Paid Memberships Pro, you will have all the tools you need for starting, managing, and growing your membership site. Premium content sites, clubs and associations, online course and subscription-based memberships, subscription box products, paid newsletters, and more can all use the plugin.
Members can select a membership level, complete checkout, and become members immediately. You control which content your members have access to. Using your site, members can view payments, update billing information, or cancel their accounts.
Features
Restrict Default Content: Ensure the security of your pages, posts, blocks, and categories. Display an excerpt, a "sneak peek" or partial content, or completely hide restricted content. When users or visitors attempt to access protected content, you can set a custom message.
Restrict Custom Post Types: You can go one-step ahead and protect custom post types too.
Restrict Single Pages: Allow members to purchase individual items, sell one-time access, or purchase a single category at a fixed price
Content Dripping: The content will be fed to members according to a schedule based on their membership level start date.
You can see list of more features here.
Pricing
Paid Memberships pro have a free tier along with 2 paid plans:
Plus: $297/year
Unlimited: $597/year
Paid Memberships Pro have an average rating of 4.3 with total of 530 reviews, you can purchase the paid plans here.
7. WishList Member
Membership levels can be built as many times as you like, you can choose who is able to access each piece of content (and why), and you can target promotions.
Provide content protection without affecting your site's design. WP themes, page builders, and plugins are compatible with WishList Member. Use logic-based triggers to automate actions like creating new posts or moving members within your site.
Features
Unlimited Memberships level: Build as many membership levels and choose which content is available for those levels
Compatibility with themes and page builders: Wishlist have great compatibility with popular WordPress themes and page builders
Schedule your content: You can easily schedule your content according to membership level
Protect your content: As with other membership plugins, Wishlist also allows you to protect your content and also get paid for it
Collect payments: You can also collect payments with Wishlist as it integrates with popular payment gateways
You can see list of more features here.
Pricing
Wishlist don't have a free tier but they offer 30 days money back guarantee
1 Site: $199/year
50 Sites: $399/year
Since WishList is paid plugin it have an average rating of 4.7 on Capterra with 34 reviews.
8. LearnDash
LearnDash is one of its kind and really popular plugin. It allows you to sell courses and its more focused towards course creators/teachers. Besides having a variety of integrations, powerful administration features and membership modules , it is also extremely easy to use.
With LearnDash's course builder, you can create your own branded learning portal with a distraction-free environment for your learners.
You have complete control over who has access to your courses and for how long.
Additionally, LearnDash includes a drip-feed feature that allows users to view the next module once they have completed the current lesson.
You can grant users access to videos, study materials, assignments, forums, and more with automated permission levels in LearnDash. Additionally, it awards certificates and badges for completing milestones.
Furthermore, you can package courses and exclusive benefits to create membership plans and packages. As soon as someone joins, they'll get access to all courses associated with the membership plan.
LearnDash integrates with a number of popular membership platforms. It can be combined with the MemberPress plugin to enhance your membership benefits.
Features
Create impressive online courses with LearnDash Drag and Drop course builder, Foucs mode, Advanced Quizzing, Dynamic Content delivery and much more
Engage your learners with Automated notifications, Certificates, Discussions, Points, Assignments and much more
Built in marketing and sales tools to increase your revenue using Subscriptions, Memberships and Course bundles
Integrates with Stripe, Paypal, WooCommerce, bbPress and more
Compatible with WordPress themes and Page builders
LearnDash is really powerful tool to create online courses and sell memberships, you can learn about it here
Pricing
LearnDash don't have a free tier but they offer 30 days money back guarantee
Basic (1 site license): $159/year
Plus (10 sites license): $189/year
Pro (25 sites license): $329/year
Since LearnDash is paid plugin it have an average rating of 4.6 on Capterra with 202 reviews.
9. aMember Pro
aMember is a member script written in PHP, but it has WordPress integration using a plugin.
The aMember platform enables you to manage customer profiles, accept subscription payments, deliver digital content, integrate with your forum, blog, or CMS, send opt-in newsletters, and manage affiliate programs.
Features
Unlimited membership levels
Full featured member management
Integrated with Paypal, CCBill, Clickbank etc
Since its a standalone PHP script it comes with plugins support for WordPress, Xenforo etc
Email Autoresponders & Broadcasts
You can learn about it here
Pricing
aMember don't have a free tier but they offer 30 days money back guarantee
$179 one time payment
Since aMember Pro is paid plugin it have an average rating of 4.4 on Capterra with 9 reviews.
10. Teachable
Teachable is another WordPress plugin for course creators. You can manage members, accept payments, and even implement sales and marketing tools to help your business grow fast.
With Teachable, you'll also get flexible drip content features, international payment gateways, and supports for multiple currencies. In addition, it has automated email marketing for boosting engagement and segmentation.
Features
Using Teachable's customizable tools, you'll be able to create a stunning membership site. Easily add videos, images, audio, text, and PDFs. Build new pages by dragging and dropping. A subdomain connected to your Teachable website can also be used, or you can use the domain of your current WordPress website.
It is easy to reward people with coupons or promotions with Teachable. Furthermore, you can create fully customizable sales landing pages and start your own affiliate program. Additionally, you may set varying prices such as one-time, membership subscriptions (recurring), or bundles of services.
Students can take quizzes, complete surveys, and participate in discussion forums. Moreover, Zapier lets you integrate nearly every known support tool, allowing you to stay organized and on track. Finally, you can issue certificates of completion as people progress through your courses.
Pricing
Teachable have a free tier with following price plans
Basic: $39/month
Pro: $199/month
Business: $299/month
Since Teachable is paid plugin it have an average rating of 4.4 on Capterra with 131 reviews.
11. MemberPress
With MemberPress, you can convert your existing website into a fully-featured WordPress membership site.
The MemberPress plugin lets you create an unlimited number of memberships (and customize all of them, including the price members pay and who can join).
Additionally, it pairs well with plugins like bbPress that encourage your users to participate in forums and discussions. The result is a thriving online community for your membership site.
After that, you can group your members, control their upgrade paths, and create dynamic pricing pages. You can also send emails to your members easily. For example, you can use email integration to promote holiday sales or flash sales.
You can also control your coupons with MemberPress. You can control the expiration dates, set a discount percentage or fixed amount, determine which products they apply to, or customize a coupon code (normally generated automatically).
Once you've created a product and set up a payment method, the MemberPress plugin will handle payments automatically. Additionally, the plugin supports payment gateways like PayPal, Stripe, and Authorize.net.
Features
The process of getting your WordPress membership site up and running shouldn't take a PhD in computer science. It is for this reason that MemberPress was created to be the easiest membership site software available.
MemberPress allows you to create a paywall, membership, and learning management system for your WordPress site. You get all of the easy-to-use features of MemberPress in addition to powerful LMS features designed to make creating courses easy. All it takes is one click and you're done. Best of all, Courses are integrated into the platform. There is no need to download anything separately.
With MemberPress, you can decide which content your users are allowed to see depending on their membership level or digital product purchase. Almost all WordPress files, including pages, child pages, posts, custom post types, categories, tags, and more, may be restricted.
Pricing
MemberPress dont have a free tier but they offer 14 days money back guarantee
Basic: $179/year
Plus: $299/year
Pro: $399/month
Since MemberPress is paid plugin it have an average rating of 4.8 on Capterra with 295 reviews.
12. WP-Members
It was the first membership plugin for WordPress. . Despite being simple and easy to use, WP-Members is very flexible.
Installs and configures easily – yet is scalable and customizable!
Features:
Protect or hide posts, custom post types and pages
Limit menu items to membership levels
User registration, login and profile integrated into native theme
Create customized registration and profile fields for WordPress
User registration notifications for admins
Turn on admin approval for registrations
Pricing
WP-Members is a free plugin which is currently active on 80,000 sites according to WordPress plugin directory.
It have an average rating of 4.5 on WordPress plugin directory with 237 reviews so far.
13. Magic Members
MagicMembers is 12 years old membership plugin for WordPress. Its been used on 80,000 + sites. It is really easy to create a membership site using Magic Members, you don't need to have any programming or technical knowledge to use Magic Members.
It also integrates with popular payment gateways like Stripe and Paypal for payments.
They have a 7 days trial and 30 days money back guarantee as well.
Features
Flexible Membership options: The different membership levels are complemented by the ability to create unlimited amounts of subscriptions with different membership billing options. The way your members pay for their subscriptions is completely up to you – whether you want them to pay daily, weekly, monthly or even annually.
Multiple Membership Levels Purchase: It's possible to let your users select multiple membership levels with Magic Members. This makes it easier to increase your revenue. Each account has its own Membership Details page that allows them to manage all their membership subscriptions
Autoresponder Integrations: It integrates seamlessly with MailChimp, GetResponse, Constant Contact, AutoResponse Plus and Sendy
Download Manager: Assigning permissions based on access levels will prevent unauthorized members and guests from accessing downloads. You will only be able to access the download if you have been assigned the appropriate permissions
Control Subscription Length: With membership expiration, you can control how long a membership is valid. Would you like your "Basic" membership to expire after two weeks? That's possible. Trial or limited memberships work great with this feature
They also have bunch of other useful features that you can check here
Pricing
Magic Members dont have a free tier but they offer 30 days money back guarantee
Single: $97
3 Site: $197
Unlimited Sites: $207
These are all one time payments. Since Magic Members is paid plugin it have an average rating of 2.7 on Capterra with 10 reviews.
14. ARMember
ARMember is a top-rated membership plugin for WordPress and also its free.
In addition to its ease of use, it also features a wide range of features, is great at performing, and has a modern user interface that is easy to use.
The ARMember platform supports free plans, finite/infinite paid plans, subscriptions with auto-renewal facilities.
It also includes a built-in Form Builder to create material-style and spam-free forms for SignUp/Registration, Login, Edit Profile, Forgot Password, Change Password, etc.
With ARMember, you can limit any content of your site with a single click. Above all, you can restrict partial content of any page/post by using just one shortcode.
Features
Content Restriction Facility: Restricting content is the core feature of any WordPress Membership plugin. You can restrict access to Posts, Pages, Custom post type, taxonomies and more..
Form Builder: ARMember allows you to visually build registration forms and create and place forms manually using short codes
Dripping Content: Easily drip content to member based on set of predefined rules
Pay Per Post: A unique feature of ARMember is its Pay Per Post Setup Wizard. With ARMember, you can integrate your REGISTRATION FORM, payment gateways, coupon codes to display on the pay-per-post setup page, and desired layout for the front end at one place
Pricing
ARMember dont have a free tier and you can purchase it from Envanto Market place for $59 one time fee which includes 6 months support as well.
Since Magic Members is paid plugin it have an average rating of 4.8 on codecanyon with 298 reviews.
15. OptinMonster (Bonus Entry)
OptinMonster is not a membership-based plugin, but it will help you grow members for your site. After all, what use is a membership site without members?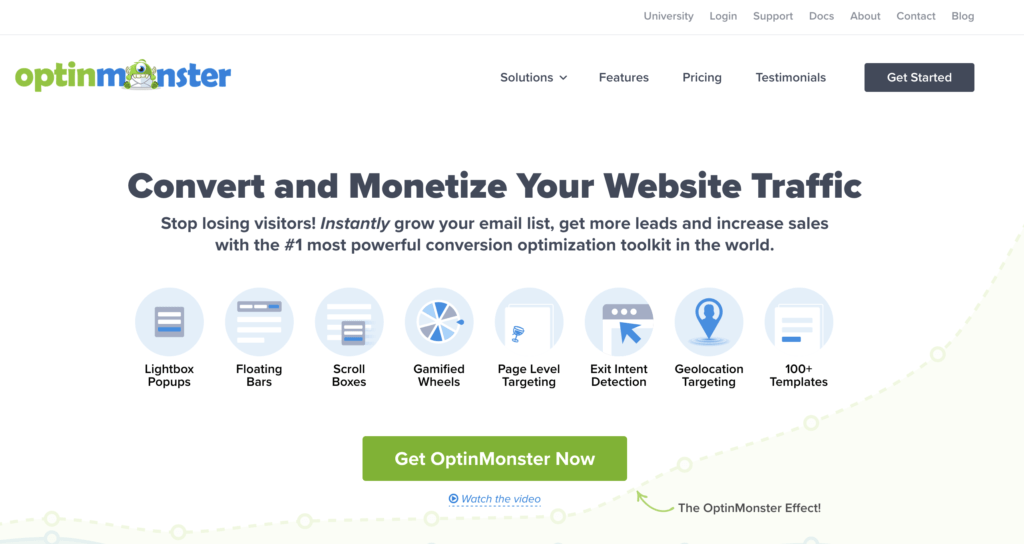 By utilizing OptinMonster, you can increase your revenue, get more email subscribers, and, in this case, attract more new members.
As more traffic comes from non-members, you need a reliable system to convert them into members. For a better user experience and to see more growth, you could even embed registration forms into clickable popups.
Features
Exit-Intent® Technology: The system detects when users are leaving and displays a customized message
Drag 'n' Drop Builder: You can easily create visually stunning optin forms that are optimized for high conversion rates with the powerful drag & drop builder within OptionMonster
Campaign Types: Your visitors will be more engaged if you choose a campaign type that is most visually appealing
Campaign Triggers: Your campaign will always be displayed to the right person at the right time if you detect your visitors' behavior and use smart triggers.
They offer other great features that you can see here
Pricing
OptinMonster don't have a free tier but they offer 14 days money back guarantee
Basic: $9/month
Plus: $19/month
Pro: $29/month
Growth: $49/month
Since OptinMonster is paid plugin it have an average rating of 4.2 on Capterra with 47 reviews.