Speed + Security +

Simplicity
An easy-to-use yet powerful control panel for cloud servers
Easily deploy fast WordPress sites on DigitalOcean, Hetzner, AWS, and Vultr using our control panel. The best part is that you don't need to know anything about servers or Linux in order to use CloudPages.
Free 7-days trial
No credit card required
Officially recognized by LiteSpeed
Features
Our service is built upon these foundations.

Simple and Developer Friendly
Our platform is simple and straightforward for developers to accomplish their day-to-day tasks.
Team Management
Team management allows you to share access with your colleagues.
Easily allow developers to work on your projects individually.
Easy Server Management
CloudPages have made server management super easy for you.
You can deploy WordPress application within 5-10 minutes.
Support
Extremely professional support that care about your issues.
We take pride in our support because its our number 1 priority.
A complete WordPress Manager with one-click Staging, Auto-login and more..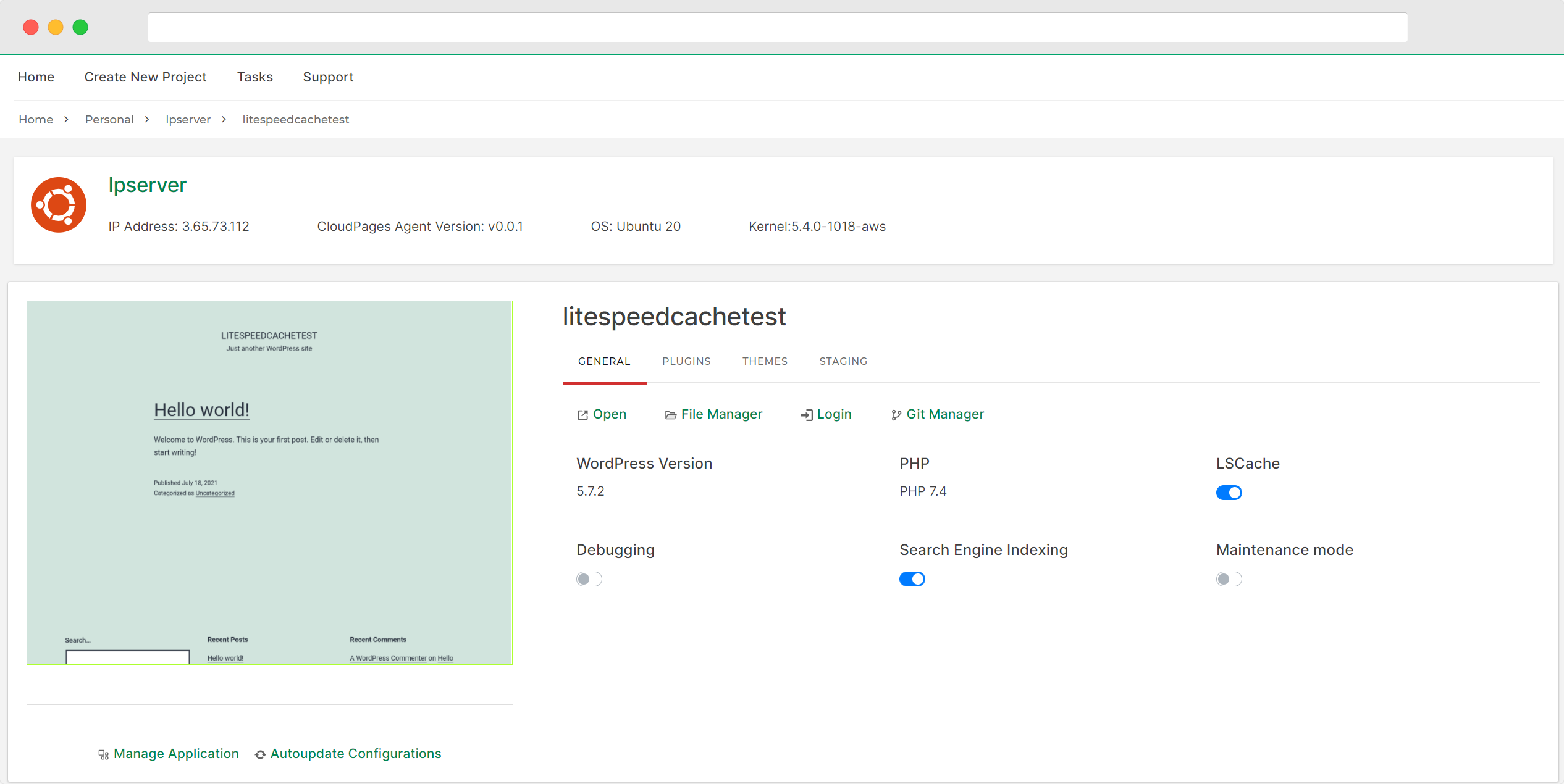 Deployment
You can deploy WordPress site (sub-folders are also supported) with LSCache within 1-3 minutes.
Auto Login
Don't remember or forgot your admin dashboard login? Use Auto-login feature for one-click login.
Staging
Easily create staging sites and deploy. them to production. Staging sites are also full-fledged WordPress sites.
CloudPages offers many features to make your life as developer as easy as possible to setup sites and servers.
Fast Deployment
Quickly provision servers with minimal foot-print, deployment takes 3-8 minutes.
Multiple PHPs
You can choose from Multiple PHPs depending on what your site runs on.
WordPress Manager
A complete WordPress Manager with one-click Staging, Auto-login and more..
One-click SSL
Get ZeroSSL certificates for free with single-click. You can also deploy your own custom SSL.
Bubblewrap
Bubblewrap will help to isolates multiple sites on your cloud server.
Team Management
Collaborate with your team by giving them access to your deployments.
Still Not Sure If CloudPages Is Right for You?
Start 7 days trial. (No credit card required)