Giveaways can be an excellent marketing strategy to boost your email list. Each of us needs a large email list with a significant number of email addresses in order to run a successful marketing campaign, but creating that email list and then growing it more and more can be like climbing a mountain. The procedure requires commitment, hard effort, and patience.
Giveaways are one of the best ways to grow your email list up to 200%. You can reach out to new audiences and increase client engagement on your website with them.
In this tutorial, you will learn how to quickly grow your email list when you create giveaway using RafflePress.
Benefits of using giveaways to grow your email list:
When you create giveaway to grow your email list, it provides a few benefits to being a lightning-fast method of growing your list. These benefits are listed below:
Giveaways are far less expensive to execute than other forms of advertising, such as Facebook ads, for growing your list.
Giveaway subscribers are people who are really interested in the products and services that your company provides, making them more likely to shop with you.
While contests and giveaways promote immediate activity, most audiences are driven by the impulse to keep moving and the fear of missing out.
You can convert leads from your giveaway newsletter into potential clients and turn those clients into brand ambassadors to grow your business with effective email marketing.
There's no denying it when you create giveaway and then run one. It has the potential to greatly boost brand visibility and profit.
RafflePress Plugin for giveaways and contests
RafflePress is a fantastic WordPress giveaway and contest plugin for growing your email list, site traffic, and social media followers. It includes simple and powerful tools for creating various types of giveaways and contests without the need for coding knowledge. You may also use the plugin's tracking and remarketing features to see how popular your giveaway/content has become in order to achieve maximum conversion goal.
CloudPages also ran a giveaway in collaboration with SaaSPirvate which also ran using RafflePress.
RafflePress is a fantastic plugin that may help you increase traffic to your site, email list subscribers, and social media engagement.
It amasses quite a few solid points:
Its interface is pleasant and easy to use. It will delight both inexperienced and experienced users. (developers etc.).
Creating a contest requires no technical expertise. It can be done dynamically in a few minutes with real-time tracking of the changes performed.
The settings menu is clear and not overloaded, which makes it easy to get started. You don't have to leave your site to make adjustments. And everything happens inside your WordPress administration.
There is a wide variety of actions to offer your users. Clearly, this is one of the main assets of the plugin, especially when associated to the competition.
Features of RafflePress
Following are the major features that you would find in RafflePress
Drag & Drop Giveaway Builder
Without having to hire a developer, you can create giveaway campaign that is effective in just a few minutes.
Viral Giveaway Templates
Pre-made giveaway templates to boost subscriber base, engagement, and traffic.
Responsive Mobile Friendly
The RafflePress giveaway widget is fully responsive, which means it looks fantastic on mobile devices, tablets, and desktop computers. It is not at all machine-bound.
1 Click Entry + Fraud Protection
To keep your contest fair, make it simple for users to enter your giveaway while preventing fake entries. Recaptcha is in place to prevent spam sign-ups.
Viral Sharing (Refer-a-Friend)
Use our refer-a-friend feature, commonly known as viral sharing, to automate word-of-mouth marketing and expand your subscriber base.
Social Media Integrations
RafflePress helps grow your following on Facebook, Instagram, YouTube, Twitter, and so many more social media platforms.
Marketing & CRM Integrations
RafflePress seamlessly integrates with your selected email marketing providers and CRMs, resulting in incredible subscriber growth and effective email marketing.
Giveaway Landing Page
Use "distraction-free" and highly enhanced giveaway landing page to get the best results. You can either create a landing page and also direct the users or subscribers to a pre-made landing page.
Tracking and Retargeting
To achieve your conversion targets, use powerful success tracking and remarketing options. This will redirect a significant amount of visitors to your landing page or website.
Entry Actions in RafflePress
RafflePress has over 20+ entry actions available to help you create the ultimate giveaway.
Get More Subscriber Entry Actions
Visit Us on Facebook
Like our Facebook Page
Follow us on Twitter
Follow us on Pinterest
Follow us on LinkedIn
Follow us on Twitch
Visit a Youtube Channel
Join an Email Newsletter
Get More Social Engagement Entry Actions
Refer a Friend – Viral
View Facebook Post / Video
View Instagram Post / Video
Watch a Video
Automatic Entry
Get More Traffic Entry Actions
Tweet a Message
Share on Facebook
Visit a Page
Share on LinkedIn
Answer a Question
Polls & Surveys
Submit an Image
Invent Your Own
Leave a Comment
Wrote a Blog Post
Subscribe to RSS Feed
Subscribe to Podcast
Integrations
ActiveCampaign
AWeber
Campaign Monitor
Constant Contact
ConvertKit
Drip
GetResponse
iContact
Mad Mimi
Mailchimp
MailerLite
Moosend
Sendy
Sendinblue
Zapier
Webhooks
Now let us see how we can create a giveaway using RafflePress and add it into a post.
Step 1: Select a prize for your giveaway
People will not be interested in your offer if you do not have a wonderful prize. In this regard, you must first and foremost ensure that the prize you choose will attract a lot of attention.
Make sure your prize is relevant to your brand and target demographic. In any other case, people will be less interested in your brand beyond that moment.
As you can see, it's a difficult balance between making the prize useful enough to attract a group of people while still being valuable enough to generate genuine interest in your company.
Step 2: Define your giveaway rules
You have to create a set of rules to keep your contest or giveaway fair.
For example, you would want the participants of the giveaway to subscribe to your email list in return for a giveaway entry.
You would also want to mention the details i.e.
Start date and end date and time for your contest/giveaway.
How people can subscribe into your entry list.
Assuming that anyone can obtain additional entries. (by subscribing to social media feeds or encouraging others to do likewise)
How you will pick a winner. (random draw)
Step 3: Creating a giveaway in WordPress
The easiest way to create giveaway in WordPress is by using RafflePress. It is super beginner-friendly and lets you create giveaways in just a few clicks.
To create giveaway, first of all, we need to install RafflePress. To do so, follow the below mentioned steps
Click on Plugins -> Add New
Search for RafflePress
Install and activate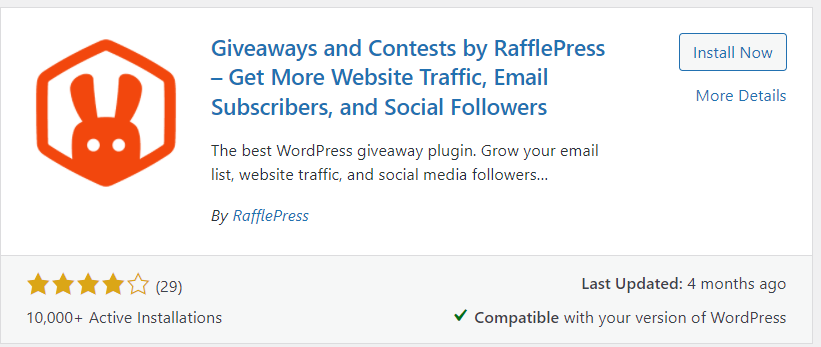 Now that you have installed and activated your plugin, let's see how you can create your first giveaway
Click on "Add new"
Give a name to your giveaway, this will be for internal use only.
Select a template.
In "Details" section, name the prize or add another prize, give the start and end time.
In "Action" tab, select the actions to get more subscriber. You can select options to get more social engagement or to get more traffic.
If your using "RafflePress" Pro, you can enter the "Design" tab and make changes in the design.
In "Settings" tab, you can make changes in the general settings and add affiliate URLs or change the name, or you can enter the giveaway rules or even add Rechatcha to avoid spam entries and much more.
Click on publish tab from the top
Select the publish option you want
After you make your relevant changes, click on "Save" from the upper left corner and close
Step 4: Add giveaway to your post
Create a new post or select a previously made post
Add a new block by clicking on "+" and search for "RafflePress"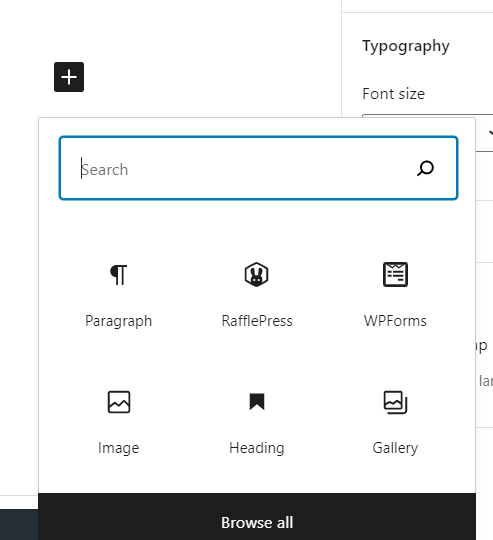 Select your giveaway from the drop down menu
Your giveaway is embedded in the post. you can click on "Live Preview" to see how your giveaway would look like
Conclusion:
That is it, this is how you can create giveaway to develop your email list. Not exclusively, when you create giveaway, you develop relationship with your optimal audience, yet you will grow your email list nearly by 200%, produce laser-targeted leads and draw in new subscribers to develop your business.