Selecting the ideal color scheme for your logo is an essential part of branding and design. The personality, meaning, and identity of your brand are strongly communicated through the use of color. They have the power to arouse feelings in your audience, establish the mood, and make a lasting impact. Here, you will look at how to pick the ideal color scheme for your logo.
Choose the Right logo Color Combination for Your Brand Logo!
It's critical to comprehend your brand's identity, beliefs, and target market before choosing colors for your logo. What values does your brand uphold? Who is the target market for you? Which feelings are you trying to arouse? The color of your logo should reflect the style and personality of your business, be it sophisticated, whimsical, professional, or inventive.
Versatility and Simplicity
The secret to a great logo is simplicity. A simple, uncomplicated design is easier to remember and more adaptable. Think about how colors will appear in print and digital media when choosing colors. Choose a primary color and a secondary color that go well together, and that can be used in a variety of situations.
It has been identified that psychological links exist with colors. While blue denotes dependability and trustworthiness, red may arouse desire and excitement. Yellow emanates vitality and happiness, while green symbolizes nature and progress. Examine the psychological connotations associated with various hues to make sure the message your logo conveys is accurate.
Your decision may be influenced by color harmonies, such as triadic, similar, or complementary color schemes. Analogous colors those close to each other on the color wheel produce a harmonious appearance, whilst complementary colors those opposite each other on the color wheel create contrast. Three equally spaced colors are used in triadic schemes to balance harmony and contrast. Try different combinations until you get the one you like for your logo.
Evaluation of Competition
Examine the logos of your competition. Examine the color schemes they employ and decide if you want to stick to the conventions of the industry or make a statement with your choice of hues. It can be beneficial to stand out, but it should complement the message of your business.
Think About Cultural Importance
Take note of the cultural meanings attached to colors. Distinct cultures have distinct meanings for different colors. In certain cultures, positive traits can have negative connotations. Make sure your colors don't unintentionally offend or alienate particular audiences if your brand is well-known throughout the world.
Together with color, your logo should be legible in black and white. To make sure your design is still recognizable and functional in the absence of color, test it in grayscale. A powerful monochromatic rendition of your emblem is crucial for practicality.
Consider the intended usage of your logo. Think about the background it will appear on and its context. Your choice of color should guarantee visibility and intelligibility in many contexts, such as billboards and social media accounts.
Make sure the color scheme you've selected complements your overall branding approach. Building a powerful and recognizable brand requires consistency in all brand elements, including the marketing collateral and logo.
Consult a variety of sources for customer feedback. It is essential before deciding on the color scheme for your brand logo such as team members, clients, and designers. This might assist you in determining any possible problems and implementing fixes.
Find the best logo design services!
For the purpose of developing a unique and unforgettable brand identity, it is vital to locate the top logo design services. Here are the guidelines that will assist you in finding the best logo design services.
Define Your Logo Design Requirements
Clearly define your requirements for a logo design before you begin your search. Think about things like your brand values, target audience, and preferred style. You may more effectively convey your expectations to possible logo designers if you have a clear brief.
Examine portfolios of the Designer Company
Examine the work samples of individual designers or logo design companies. In order to make sure they can adjust to various styles and industries, look for diversity in their work. To determine whether their designs complement your concept, pay close attention to the quality and originality of each one.
If you know of any coworkers, acquaintances, or other business owners who have had good luck with logo designers, start your search by asking for recommendations. Personal recommendations might point you in the direction of reputable experts with a solid track record.
Request Proposals and Quotes
Contact the companies on your shortlist that offer logo design services and ask for quotations or proposals. Take note of their communication style, willingness to comprehend your project, and response timeframes. To choose which option suits your needs in terms of cost and time, compare their prices, turnaround times, and the amount of changes provided.
Read testimonies and Reviews
Examine the standing of logo design services by reading internet reviews and past customer testimonies. This might help you gauge their level of professionalism, effectiveness as a communicator, and general caliber of work. Check some great websites to look for reviews of designers.
Furthermore, there are certain elements that you must bear in mind. Take into account the designers' or design agency's experience and knowledge. Seek out a design provider that can offer more branding materials and design assets than simply the logo if you intend to grow your brand. Select a responsive designer or service that is prepared to work directly with you to improve the design of your logo.
Some Color Combination examples:
Papular color combinations:
1.Blue, purple, pink, yellow and orange
2. Light aqua, red, black and white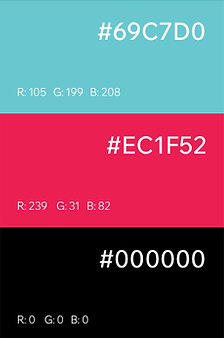 3.Green, purple and black
4.Orange and red
Some Logo Examples:
There are few logos that we own so lets share those examples. Some are single color, and some are multicolor.
Cloudpages Logo:
CyberPanel logo:
CyberHosting:
Conclusion
Selecting the ideal color scheme for your logo is a calculated move that should complement the tone and identity of your company, especially if your business is just at the beginning of its journey. Examine your logo in a variety of usage situations and take into account the psychological effects of colors, industry conventions, and cultural meanings. You may design a logo that accurately conveys your business and appeals to your target market by considering these aspects and getting input.