Startup costs always remain among the primary headaches for aspiring small business entrepreneurs. It's a no-brainer that there are unavoidable costs for every online business. However, there are some expenses that you can put the brakes on by using some marketing-efficient tools. Here we will learn to know about top Tools for Startups.
In today's tech-enthusiastic world, you can have a plethora of online resources that can help you in:
a- reducing startup costs
b- saving valuable time
Since we have established that tools are necessary to speed up efficiency, what are those? Don't worry; we have you covered. In this blog post, we are discussing 15 startup-friendly tools and online resources that you can exploit as an aspiring entrepreneur. So, let's get started:
Top Tools for Startups You Need to Know
1- Squad Help
Finding a unique start-up idea is crucial. Start-up ideation tools are necessary to get a clear picture of where you are standing and where you have to reach. For that reason, Squad Help can rescue you big time.
Through Squad Help, you can find your perfect and product-centric business name. The best part about this tool is that it allows you to go beyond the business name. You can find a name for your app, service, or e-book to define or populate your business.
Moreover, they offer you premium business names needed for urgent purchases. You can also take experts on board to assist you in the naming process—all in all, a perfect first-step tool.
2- Germs.io
Management of a business concept is crucial. Germ.io is one of those gems of tools that can assist you in preserving startup ideas and business resources. Validation and sharing of your business concepts are possible through this tool.
Moreover, germ.io can also help you mature your startup idea by offering the "next steps." Consequently, you can design your idea without any hassle. It allows you the freedom to develop actionable steps by aiding you with your hows and whys.
3- Mindmeister
You cannot afford to lose your ideas. It is crucial to make it concrete with a definite pattern, and that's where Mindmeister kicks in as one of the best startup tools. It lets you mind map your business idea and brainstorms it with specialists in real-time. This resource also aids you in creating presentations, apart from idea creation and planning. Mindmeister is a valuable tool for turning your ideas into dynamic slideshows.
MindMeister is a cloud-based mind mapping and brainstorming tool that allows users to create visual diagrams to represent their ideas and thoughts. It can be used for a variety of purposes, including project planning, brainstorming, note-taking, and more. With MindMeister, users can create mind maps by adding branches and sub-branches to represent the various aspects of their ideas, and can also add notes, images, and other multimedia elements to their mind maps to provide more detail and context. MindMeister also offers collaboration features, allowing users to share their mind maps with others and work on them together in real-time. It is available on a variety of platforms, including the web, iOS, and Android.
Furthermore, it connects with MeisterTask. A task management tool allows you to turn ideas into actionable tasks.
4- Just In Mind
If you are a mobile or app development startup entrepreneur, it is key to establish how your Minimum Value Product (MVP) impacts your business. To know the MVP impact, you need to have "Just In Mind." You can design interactive prototypes from point zero and put life into them with a mere click.
As startup software, Just In Mind gives you a wide range of mobile gestures and web interactions so you can focus on making a memorable user experience. This is helpful if you want to make wireframes that can be used on mobile and desktop devices with different screen sizes.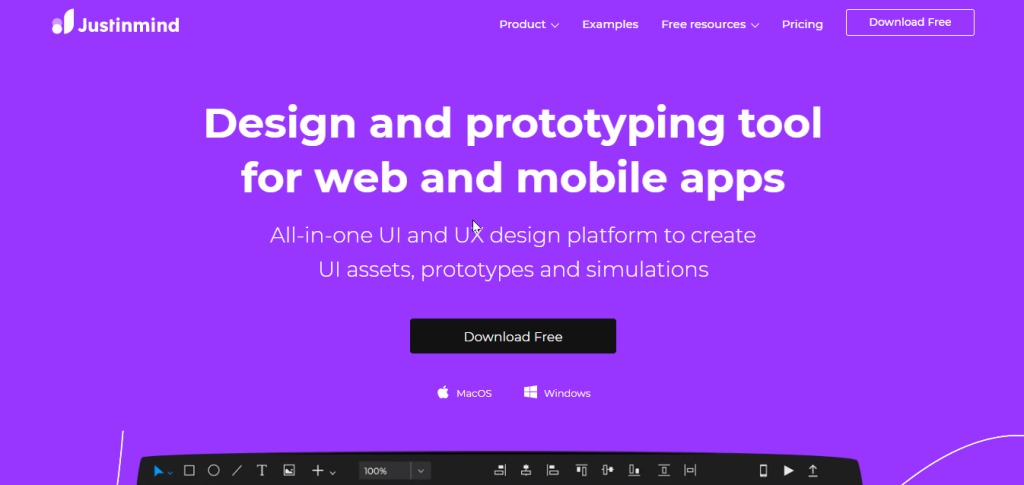 5- Balsamiq
No entrepreneur wants a lousy user interface to put off its visitors or customers. Balsamiq is a tool for startups that keeps your site away from the wrong user interface. Because it is a low-fidelity startup wireframing software, anyone can use it. Whether you are a manager, developer, analyst, entrepreneur, or specialist in UX design, it doesn't matter.
Balsamiq is a rapid wireframing tool that allows users to create low-fidelity mockups of websites and user interfaces. It is designed to be easy to use, with a simple interface and pre-designed UI elements that can be dragged and dropped onto a canvas to create a wireframe. Balsamiq is often used in the early stages of the design process to quickly prototype and test ideas before moving on to more detailed design work. It is available as a standalone desktop application or as a cloud-based service, and can be used on both Windows and Mac operating systems.
Balsamiq is one of the best resources for startups. You can get extensive documents and help enhance the software with continuous new releases and multi-channel support. You can get that from their support page if you want documentation and tutorials (from fresh to experienced level). Overall, it is one of the excellent tools for startups at the MVP level.
6- Product Hunt
As an entrepreneur, you need tools for startups for product hunting. Thus, you need various best startup tools for seamless launch, just like Product Hunt. It is an ideal launch setup for startups. Product Hunt offers startup-centric new products every day. For product-loving freaks, it is one of the top startup business tools. They can discuss all the new sites, products, apps, and other tech creations.
products in the technology industry. It was founded in 2013 as a way to help people discover and learn about new products, and has since grown to become a popular destination for developers, entrepreneurs, and investors.

On Product Hunt, users can browse a curated list of products that have been submitted by their creators or by members of the community. Each product is accompanied by a short description and a link to the product's website, and users can leave comments and upvote their favorite products to help them rise to the top of the list. In addition to browsing products, users can also join discussion forums and attend online events to connect with other members of the community. Product Hunt is available online and can also be accessed via a mobile app.
This tool works on a system for user comments and a voting system similar to Reddit. Product Hunt has a pre-existing community of testers willing to try new products. So, launching your startup becomes easy with this, one of the top resources for startups.
7- Beta List
It is also one of the reliable tools for startups that support the pre-launch phase of a business. The significant benefit a startup can gain from this tool is that it helps you meet a business-savvy community. You can gain valuable feedback from business enthusiasts.
A Beta List is a pre-launch system that helps your startup gain the traction it needs for a successful launch. The best thing about this platform is that you can share your idea for a startup with a great group of smart business people and get helpful feedback from them.
As one of the best startup tools, Beta List has aided over 3,000 startup entrepreneurs and taught them how to understand customers the right way. They provide quantitative and qualitative research to ensure they create and launch customer-savvy products.
8- Press Kite
A permanent residence for a startup, Press Kite is one of those resources for startups that you can't afford to miss. It enables you to make a kit to launch your startup dream. It is easy to use and can be sent to any journalist whenever needed. You can allow your startup to enjoy the press coverage required so the masses can know about you. One of the tools for startups is worth checking out!
9- Hootsuite
After your startup launches, you need to market it in the best possible manner. Hootsuite is among the best social media startup business tools used worldwide by renowned startups, mainly due to its affordability and straightforward UI.
You get some cool features with Hootsuite. As one of the most social media savvy tools for startups, it enables you to schedule 30 posts (free plan) across social media platforms. Moreover, you can measure the ROI (Return On Investment) of social media campaigns and track the impact they create, all under one roof. Also, this is one of the best marketing tools for startups because it lets you connect two RSS feeds and multiple apps like Dropbox, MailChimp, YouTube, and other business tools for startups.
10- Mailchimp
If you have to pick one strategy among all the marketing strategies, it is email marketing. For a flawless email marketing campaign, you must use one of the best new tools for marketing, and Mailchimp is your best bet. 
Mailchimp is an email marketing service that allows businesses and organizations to send newsletters, promotional emails, and other types of electronic communications to their customers and subscribers. It offers a range of features and tools to help users create and send emails, including templates, design tools, automation workflows, and analytics. Mailchimp is designed to be easy to use, with a drag-and-drop editor and a range of pre-designed templates that can be customized to fit the user's branding and style. In addition to its email marketing capabilities, Mailchimp also offers features for managing customer lists, segmenting audiences, and integrating with other tools and services. It is available as a web-based service and also offers mobile apps for iOS and Android.
Mailchimp's free plan includes up to 2,000 contacts and 10,000 sends per month, with a daily send limit of 2,000. Aren't these numbers mind-boggling? This email startup software allows digital marketers to shoot emails directly to the users' inboxes. It is among the many highly recommended tools for startups. You can use this tool for things like this.
11- Mangools
This marketing tool is a set of five SEO tools for startups like LinkMiner, SerpChecker, SerpWatcher, SiteProfiler, and KWFinder. It aids startups in developing effective workflows for SEO.
Mangools helps you find the right keywords, analyze the search results by location, compare your business to those of your competitors, track the keyword positions, and boost them with strong backlinks.
12- Google Analytics
This Google-based tool gives you insights into the website's traffic. If you want to identify what is going for you and what is not, use Google Analytics. When you discover a flaw, you can fix it to improve the user experience and customer engagement. You can't ignore Google Analytics to achieve optimal results with continuous evaluation and monitoring of data online marketing strategies. One of the complete marketing tools for startups.
Google Analytics is a free web analytics service offered by Google that tracks and reports website traffic, currently as a platform inside the Google Marketing Platform brand. Google launched the service in November 2005 after acquiring Urchin. Google Analytics is now the most widely used web analytics service on the Internet.
To use Google Analytics, you will need to create an account, add the tracking code to your website, and then create reports and charts to help you understand your website's traffic and visitors. Some features of Google Analytics include the ability to track pageviews, user behavior, and conversions, as well as to segment your traffic to get a better understanding of your audience.
13- Send Pulse
Remaining in touch with customers is among the most critical objectives for every startup to taste success. Some customers like enticing old emails, while others prefer chatbots or discount coupons. Send Pulse can help you cater to different customer tastes.
With Send Pulse, you get lead generation tools. Also, you can enjoy promotional channels like email or social media chatbots. Moreover, there is a free CRM tool within the platform. This constantly evolving platform is adding new features and one of the startup's complete promotional resources. An Instagram chatbot is the latest addition here, apart from regular features.
14- Foundersuite
Keeping closing eyes on financial matters is vital for startups. It is crucial to record and establish where the flow of revenue is. That's why the tools for startups like Foundersuite are essential for startups.
Foundersuite is one of the amazing startup business tools to raise capital. It brings efficiency, speed, and structure to investor relationships. You get a CRM tool for managing the investor funnel, a database for a venture capitalist, and an Investor Updater tool for developing periodic progress reports.
Moreover, Foudersuite offers Startup Docs, which contains a set of spreadsheets and templates such as founders' agreements and pitch decks. All in all, one of the finance-oriented tools for startups.
15- Crunchbase
One of the leading startup tools for entrepreneurs to explore innovative companies is It allows you to connect with experts and grab new opportunities. Over 50 million investors, researchers, and sales professionals put their faith in this, one of the amazing resources for startups to make business decisions. Several startups from across the globe rely on Crunchbase as their backend to power their apps.
Last Word
That's it! There can be more, but these tools for startups are must-haves. All the resources for startups mentioned in this list help keep operations quick, easy, and efficient. They can maximize your potential and improve your ROI. If you apply them wisely, your startup can flourish with better prospects and sustainable growth for years to come. If you are going to start a store this will be useful for you.